Co-op Bank was asked to take over Presbyterian Mutual Society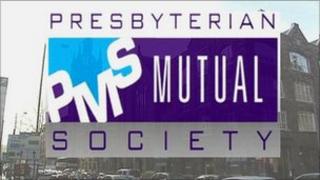 It has emerged that the government asked the Co-op Bank to take over the failed Presbyterian Mutual Society (PMS) in 2010.
The details were revealed by the former chairman of the bank.
Paul Flowers was giving evidence to the House of Commons Treasury Committee.
The PMS was placed into administration in 2008 after savers withdrew their money when it emerged the society was not covered by a government guarantee.
Mr Flowers told the committee that he was first approached about a takeover by a senior Stormont official who described himself as coming "as a snake oil salesman".
Mr Flowers said there was a subsequent meeting with the then secretary of state Owen Patterson and a senior civil servant.
He said he refused to take over the PMS because the figures presented to him had "a black hole" in them and were "£100m adrift".
Nearly 10,000 people lost access to their savings when the society entered administration in November 2008.
A rescue package for the PMS members, underwritten by the Westminster government and the Northern Ireland Executive, was agreed in 2011.
It allowed for smaller savers, who invested less than £20,000 with the PMS, to get all of their money back.
Larger investors received 85% with the remaining 15% dependent on the disposal of PMS properties and other assets.
The Commons committee is investigating why the Co-op Bank pursued a deal to buy hundreds of branches from Lloyds Banking Group, despite its own parlous condition.
The bank's financial problems came to light after the bank pulled out of the deal to buy the Lloyds' branches.
The larger Co-op group has lost control of the bank to a group of US hedge funds as a result of those problems.