Hyponatraemia inquiry: chairman's cover-up fears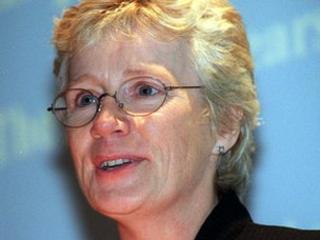 The chairman of the hyponatraemia inquiry into the deaths of children in NI hospitals has said that the evidence so far makes it difficult not to believe there was a cover-up.
Mr Justice O'Hara was responding to evidence given on Thursday by the former chief medical officer.
Dr Henrietta Campbell held that position from 1995 until 2006.
During that time five children died in local hospitals as a result of fluid mismanagement.
Dr Campbell was the central figure in promoting health policy and good practice but told the inquiry in Banbridge, County Down, that she only heard about the deaths of one of the children during her time in office.
She said that the informal mechanism that was in place for reporting hospital deaths was not good enough. She said it was very bad.
Deaths
Mr Justice O'Hara said it was difficult not to believe that it simply was not just an accident that these deaths were not reported.
In reply, Dr Campbell said she would never condone a cover-up and that it is something the service would not be proud of.
The inquiry is examining the deaths of three children, Adam Strain, Claire Roberts and Raychel Ferguson. It is also investigating the events following the deaths of Lucy Crawford and Conor Mitchell.
All of the children died in hospital. In relation to four of the deaths, hyponatraemia is said to be a contributing factor.
Hyponatraemia is the term for a low level of sodium in the bloodstream, which causes the brain cells to swell with too much water.
The inquiry is trying to establish who, within the Department of Health, knew about the deaths of the five children and, if they knew, why the information was not acted upon.
One of several themes is whether, if lessons had been learned after Adam Strain's death in 1995, might other lives have been saved.
Cried
In response to being asked why it took over five years to put a proper system in place for reporting deaths, Dr Campbell said that she could not defend why it took so long.
The chairman said he was accepting her comment as a "major acknowledgment of failing on behalf of the department".
Dr Campbell told the court that she did not learn of Claire Roberts' death, which happened in 1996, until eight years later.
Claire's mother gasped several times while listening to the evidence. When the mechanism for reporting deaths was described by Dr Campbell as very bad, Mrs Roberts cried.
Directing his comments to Dr Campbell, Mr Justice O'Hara said: "The concern is that it wasn't just an accident that these deaths didn't reach you.
"In Adam's case there was an inquiry and a statement. But in Claire Roberts' case her death is wrongly certified, the coroner isn't contacted, you are not contacted.
"Mrs Roberts must be sitting thinking that's not an accident. They must think that's a cover-up. And why shouldn't I believe that that was a cover-up?"
'Deep regret'
Dr Campbell was asked about the public interviews she gave about the children's deaths.
She said that she "deeply deeply regretted" that anything she had said could have caused further distress.
"On reflection I realise - I realised much after the interviews - that some of the things that I said could have been misunderstood in terms of what I was trying to say. They were very poorly crafted. I wasn't fully - didn't fully brief myself on the clinical issues," she said.
"I'm a public health doctor, it was 30 years since I'd had anything to do with fluid management. So my words were not well crafted."
Dr Campbell said she looked back on the interviews she had given "with much regret".
"I did expect only to talk about the fact that we had guidelines in place and that what we were doing was trying to prevent any deaths happening in future," she said.
"I think I said at each interview that I knew that those deaths were all preventable, that they were in fact clinical accidents. They were preventable and that is the dreadful, dreadful tragedy of that.
"But from my own personal point of view, as a doctor - and indeed as a mother, a grandmother - when you begin to understand the grief that those families are carrying, it is with deep regret that I added to that."