Fr Eugene Lewis in court battle over child abuse convictions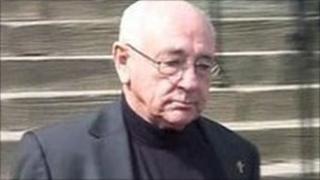 A Catholic priest jailed for sexually abusing young girls more than 40 years ago is to take his fight to clear his name to the UK's highest court.
Fr Eugene Lewis has already successfully appealed three of 11 indecent assault charges he was found guilty of committing.
Senior judges in Belfast have denied his application to go before the Supreme Court on the remaining counts.
But his lawyers confirmed he will now make a direct petition for a hearing.
They argue a point of law of general public importance has been established.
In 2010 the 78-year-old priest was sentenced to four years in prison for molesting three girls.
He was freed last year, however, after partially winning his appeal and having the jail term reduced to two years and nine months.
The abuse was alleged to have been carried out in County Fermanagh between 1963 and 1973, beginning when the girls were aged as young as seven.
At the time Lewis was based at the College of the Society of Missionaries of Africa, also known as the Order of the White Fathers, in Blacklion, County Cavan, in the Republic of Ireland.
Cast doubt
Despite his suggestions that the accusers were motivated by a family conspiracy or compensation claims, he was convicted by a jury at Omagh Crown Court at the end of a six-week trial.
The priest has always maintained his innocence and claimed to be the victim of a miscarriage of justice.
A central point in his case was the alleged non-disclosure of material at the time of the trial.
Defence lawyers argued on Thursday in the Court of Appeal that declaring his convictions for abusing one girl unsafe cast doubt over the others.
A three-judge panel was told directions to the trial jury on the "cross-admissibility" of all complaints rendered each of the guilty verdicts unsafe.
A barrister said it raised an issue of general public importance that has never been considered before.
Rejecting his submissions, Lord Justice Higgins held that no relevant point of law had been established and denied leave to appeal to the Supreme Court.
Despite the refusal, Lewis' solicitor later pledged to make a direct approach for a hearing in London.