Gerry Kelly cancels Antrim book-signing because of 'unionist hysteria'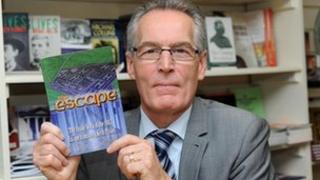 Sinn Féin MLA Gerry Kelly has cancelled a planned book-signing in Antrim town because of "unionist-manufactured hysteria".
Mr Kelly was due to sign copies of his book The Escape, about the 1983 IRA Maze prison break-out, on 22 November.
But unionists complained because of the venue's proximity to the Massereene Army barracks where two soldiers were murdered in 2009.
Mr Kelly said the book-signing would be rearranged for a later date.
He said: "Due to the unionist-manufactured hysteria surrounding the event, the time and venue has been changed.
"Details of a rearranged book-signing will be released in the future."
Mr Kelly, a North Belfast MLA, was one of 38 republican prisoners who escaped from the high-security Maze jail in 1983.
One prison officer was killed and another seriously injured in the biggest prison break-out in UK history.
Six other prison officers suffered gunshot wounds or stabbings in the break-out.
Mr Kelly caused controversy in September with a Twitter message about the escape.
'Utterly contemptible'
He tweeted: "Happy 30th anniversary of the Great Escape 1983 from Long Kesh H-Blocks to all involved."
UUP MLA Danny Kinahan welcomed Mr Kelly's "U-turn" on the book-signing.
He said: "I welcome the fact that Gerry Kelly has been forced to change his plans for a book-signing in Antrim following the local outcry.
"His comments about changing the time and venue so as 'not to feed the book-burning wing of unionism' are utterly contemptible.
"Gerry Kelly is a convicted criminal who has expressed no regret or apology for his crimes and the people who died or were injured as a result of his activities. This book is not truth, but propaganda which will only retraumatise victims."
DUP South Antrim MLA Trevor Clarke also welcomed the news that the signing in Antrim had been changed.
He said Mr Kelly "could not ignore the offence that his planned event caused".
"Instead of buying Gerry Kelly's book, people would be much better watching the documentary broadcast this week on the disappeared," he said.
"That gives a much more accurate picture of the IRA's activities than a partial account of the Maze escape."
Sappers Mark Quinsey, 23, and Patrick Azimkar, 21, were collecting pizzas from delivery men when two gunmen opened fire in the Massereene attack in March 2009.
Four other people, including two pizza delivery men, were injured in the attack, which was claimed by the Real IRA.