Enda Kenny calls for charity all-Ireland football team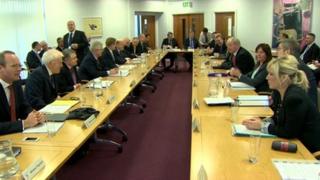 Stormont ministers have met their Dublin counterparts at the North-South Ministerial Council (NSMC) in Armagh.
First Minister Peter Robinson and Deputy First Minster Martin McGuinness attended, along with Irish prime minister Enda Kenny and his deputy Eamonn Gilmore.
An ongoing review of North-South bodies was raised and the Narrow Water Bridge project was discussed.
Earlier, Mr Kenny raised the idea of an all-Ireland football team.
Speaking at a reconciliation in sports conference in the city, ahead of the North-South meeting, Mr Kenny said the team should take on England every two years to raise money for children.
He said the games could be played at Wembley in London or the Gaelic Athletic Association's (GAA) headquarters at Croke Park in Dublin, and could help fund research and facilities at specialist hospitals in Belfast and Dublin.
Mr Kenny said the idea could be attractive to everyone.
Autonomy
"Given the nature of sports people they would be more than willing to participate in what would be an occasion of visible integration of sport, but also with a real impact for the development of facilities for all the children of the island of Ireland," he said.
The taoiseach's proposal has been supported by the first minister and deputy first minister.
Mr Robinson said the proposal was obviously a matter for the governing bodies of the sport, but added it would not threaten the autonomy of either football organisation.
He said it would be a "good cause for young children" in hospitals on both sides of the border.
And Mr Robinson joked: "As long as I am not the referee I don't mind being there."
The deputy first minister also was in jocular form about the idea and said he had already asked Mr Kenny if he could play goal.
Collaboration
Mr McGuinness said he would support a team that represented all the people of the island.
He said he wasn't trying to make a political point, adding: "I want to see a team representing the island of Ireland qualifying for something whether it would be the European Championships or the World Cup."
Mr Kenny declared Friday's North-South meeting as the best ever in terms of attitude, collaboration and what was achieved.
Mr McGuinness announced that the NSMC was going to increase collaboration between departments.
And it was also revealed that the taoiseach is expected to join the first and deputy first ministers at a joint event when they are all in Japan at the beginning of December.
Other issues that were discussed included education, youth unemployment, child safety and improving the economy.
Twenty-four ministers attended the meeting.