Ballymena bomb alert: gun recovered and residents return home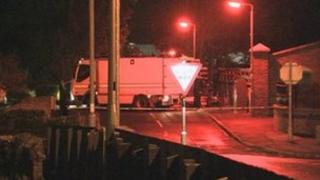 An overnight bomb alert in County Antrim has ended and police said a gun has been recovered from the scene.
About 30 families spent the night out of their homes in the alert at Parkmore Close, Ballymena.
It began shortly after 16:00 GMT on Sunday following the report of a suspicious vehicle in the area. The Army was called and a series of controlled explosions were carried out.
It ended at about 11:00 GMT on Monday and people were allowed back home.
Police said a suspected firearm and a number of items had been taken from the scene for further examination.
Superintendent John Magill said: "I would like to thank to local residents and the wider community in the area for their patience and support throughout this protracted operation.
"I wish to reassure them that this was necessary to ensure the safety of the local community and to protect everyone. Public safety is of paramount importance and the blame must lie with those who left this car in a residential area of the town."
BBC reporter David Maxwell said the vehicle that sparked the alert was a silver Mercedes that had been left close to the centre of the town.
He said the bonnet, boot and all of the the car doors were open as the Army continued their examination of the vehicle on Monday morning.
Residents reported hearing a helicopter in the area at about 16:00 GMT on Sunday, before police began to move people out of their homes.
Those who had to leave their houses overnight were offered food and shelter at the Seven Towers leisure centre in Ballymena.
One man said there had been significant disruption for families.
He told BBC Radio Ulster that his wife could not get back into their house to take her medication.
The couple had to spend the night at their daughter's home after being told it would be the early hours of the morning before the security operation was complete.
Another resident, May Black, said she was preparing dinner for her visitors on Sunday when a policeman called to her door shortly before 17:00 GMT.
"There was a lot of activity with the (police) helicopter, we knew there was something going on," she said.
"I feel put out and upset because I have things I need to do in my house," she added.
"I have an early appointment in the morning, it has just disrupted my life."
Ms Black is a member of a local residents' group and said that they were making an effort to speak to everyone affected by the alert, to check that they had somewhere to spend the night.
She said: "It seems to be that people are looking out for themselves and their neighbours which is a good sign."
Police have appealed to anyone who noticed the car on Friday night or early on Saturday morning, to contact them.