130 gritters on stand-by as Roads Service prepares for winter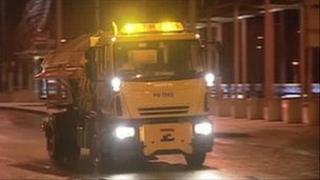 Almost 300 staff and more than 130 gritters will be on stand-by every night until the middle of April to keep Northern Ireland's main roads open during the winter.
The operation costs up to £80,000 a night.
Regional Development Minister Danny Kennedy said: "Our main effort will be to keep the motorways and trunk roads open."
He was speaking as Roads Service launched its winter service programme.
It takes about three and a half hours to treat 4,400 miles (7,000km) of roads across Northern Ireland with salt.
More than 800 tonnes of salt is used on average to treat the entire route just once.
'Enormous job'
Roads Service has reserves of 110,000 tonnes of salt that are topped up regularly during the winter.
Almost 5,000 salt bins and 50,000 grit piles have been strategically placed on roads not included on the salted network.
Mr Kennedy added: "With winter fast approaching Roads Service is prepared to tackle the enormous job of keeping the main roads across Northern Ireland open.
"We will then focus on other main roads and busy urban link roads.
"As we have seen earlier this year, even our best efforts can be hampered by heavy and sudden falls of snow.
"In addition to treating icy roads, during prolonged periods of snow all salt-spreading machinery will be fitted with snow ploughs.
"In very deep snow, Roads Service will use its snow blowers, the latest of which can clear 1,600 tonnes of snow in an hour."
Mr Kennedy also called on drivers to prepare by ensuring their vehicles are fit for purpose.
A Roads Services winter service leaflet, Keeping Traffic on the Move During Winter, will be delivered to every household and business premises over the coming weeks.