John Irwin and Sean Martin killed in Fermanagh car crash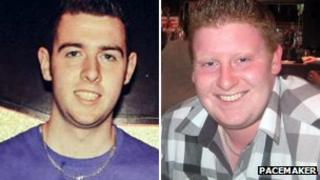 Two young men have been killed in a car crash in County Fermanagh.
They have been named as John Irwin, 22, from the Castlederg area in County Tyrone, and 18-year-old Sean Martin from County Donegal.
They were in a car that crashed on the Pettigo Road, Kesh, at about 16:20 GMT on Sunday, 10 November.
No other vehicle was involved. SDLP councillor John O'Kane said it happened about a mile from Kesh on a sweeping bend.
"This is particularly tragic, it is every parent's worst nightmare," he said.
Mr O'Kane said there had been a spate of accidents in Fermanagh recently. He said the state of roads in the county was one factor.
"The condition of our roads is a cause for concern and we will be addressing this issue with the Roads Service when we meet them shortly," he said.
In Northern Ireland, more people have been killed in car accidents in 2013 so far, than for the whole of last year.
Forty-eight people died in 2012. With almost two months to go until the end of 2013, the total deaths for this year stands at 49.
Seven people have been killed in Fermanagh so far this year, compared to three for the same period last year.