Former Red Sky head Norman Hayes declared bankrupt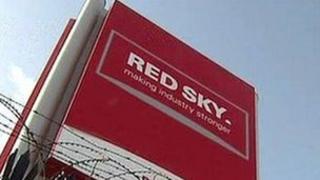 The former head of defunct construction firm Red Sky has been declared bankrupt over alleged debts of nearly £17m.
An order was made against Norman Hayes at the High Court following a petition by the Northern Bank, now Danske.
The bank brought proceedings claiming it was owed millions of pounds on a series of personal guarantees.
Mr Hayes, of Quarry Road, Belfast, was managing director of Red Sky until it went into voluntary administration in 2011.
It followed a decision by the Northern Ireland Housing Executive to cancel maintenance contracts with the firm over concerns about work practices.
In its bankruptcy application the bank listed five personal guarantees between 2006 and 2008 it said formed part of Mr Hayes' debt.
They included nearly £7m, in total, for lending facilities provided to the Red Sky Group.
A further £6.59m was linked to Rivermount Developments Ltd.
Another £646,000 was for facilities the bank provided to Ramparts Holding Company Ltd.
The bank has also attempted to claw back nearly £2.56m on a series of accounts, according to the papers.
Its petition stated that despite formal demand letters the money is still owed.
"The above-mentioned debt is for a liquidated sum payable immediately and the debtor appears unable to pay it," it claimed.
Mr Hayes' centre of main interests were listed as Quarry Road and the offices of Totalis Solutions Ltd, Grove Street East, Belfast.
The Northern Ireland Court Service confirmed a bankruptcy order had been made against the businessman.