Environment Minister Mark H Durkan shelves national parks plan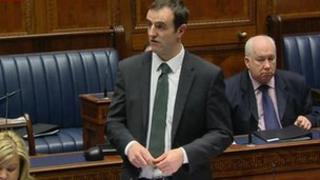 Environment Minister Mark H Durkan has told the assembly he is putting plans to introduce national parks in Northern Ireland on hold.
Speaking during question time, the minister said: "I'm not scrapping the National Parks Bill, I am shelving it."
The DUP's Mervyn Storey said that in his North Antrim constituency "there is total and widespread opposition to a national park".
Mr Durkan said he felt opposition was "largely due to fear, and fear alone".
He called for a partnership approach and hoped that "maybe, just maybe, some time in the future people's opposition might reduce".
The minister was asked about a possible rescue plan for the threatened Exploris aquarium in Portaferry, County Down.
Mr Durkan said a "one-off grant support may be available to help upgrade the facilities to attract more visitors and income, thus reducing the subsidy provided by the council".
He said this would depend on three factors; an assurance from Ards Borough Council that there would be long-term support for the aquarium, that the council would supply a suitable business case justifying the grant, and that his ministerial partners were prepared to support the one-off payment.
Dialogue
Sammy Wilson of the DUP asked Mr Durkan if he had "any plans to introduce the daft and economy-destroying idea of his predecessor of introducing a climate change bill for Northern Ireland?".
There was laughter when, in a slip of the tongue, the minister said his predecessor, SDLP party colleague Alex Attwood, had "many daft ideas".
He said climate change was a "massive issue" but he was not "100% convinced" that a bill was the best approach, and that he was more inclined to support a climate change policy.
Enterprise Minister Arlene Foster said there was a need for dialogue between anyone organising flags protests in the period up to Christmas, and Belfast city centre traders.
Replying to a question from Sinn Fein's Alex Maskey, Mrs Foster said she had supported the "hugely successful" Backing Belfast campaign during a previous period of protests.
"My door is open," she said.
Mrs Foster also addressed the matter of the proposed North-South electricity interconnector, which she described as "one of the most critical pieces of infrastructure" in terms of security of supply.
The minister said she had discussed the matter with her counterpart in the Irish government, and that strategic environmental assessments were under way in Northern Ireland.
Mrs Foster said she was aware of local sensitivities about the interconnector.