NI house prices 'fall in August and September'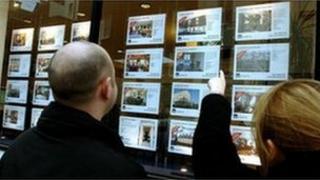 Northern Ireland house prices fell in August and September according to data from the Office of National Statistics.
The figures, which are based on information from the Council of Mortgage Lenders, suggest the average price is now £127,000.
The overall trend in Northern Ireland is flat with prices staying at around £130,000 since the middle of 2012.
Another report, from the Royal Institute of Chartered Surveyors, suggests prices rose in recent months.
The Office of National Statistics (ONS) figures suggest that prices are 1.5% lower this time last year and still more than 50% below the peak of August 2007.
The Royal Institute of Chartered Surveyors (RICS) report is a survey of estate agents and 43% of those questioned said prices had had gone up in October.
Just over half said there had been no change while 5% said prices had gone down.
Meanwhile a survey for Bank of Ireland suggests that business confidence in Northern Ireland is improving.
Three quarters of a panel of 50 companies surveyed in late October said they are either growing or have stabilised following the downturn.
Seven out of ten respondents said they were optimistic about prospects for 2014 and half have taken on new staff this year.
Ian Sheppard, Head of Business & Corporate Banking Northern Ireland, Bank of Ireland UK, said: "The survey shows companies expect growth to come from introducing new products and services, developing a skilled workforce and from general economic improvement.
"But they are realistic about the challenges they face, with more than a third citing concerns over rising costs, cash flow and the availability of funding."