Health minister Edwin Poots apologises for errors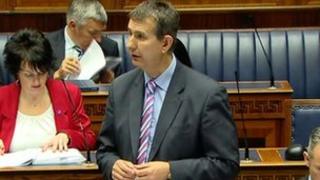 The health minister has apologised for two factual inaccuracies in speeches he made to the Northern Ireland Assembly.
Edwin Poots made the apology in a letter to the Speaker, William Hay.
The first mistake was in a speech on the exploitation of children and young people on 30 September, when he said "some of the young people are now adults and cannot be subject to a case management review."
Mr Poots has now said that statement could be "wrongly interpreted."
He says it is correct that most young people he referred to are now adults but if they suffered harm while they were children in the care system some may meet the criteria for case management review.
The second error was made during a debate on the international mental health centre last week.
In his letter, the minister says that while he said the voluntary sector in mental health receives £6.76m a year, the actual figure is £676,000.
Edwin Poots is also sending a copy of the letter to all MLAs and is placing a copy in the Assembly library.