Councillor quits Sinn Féin amid 'serious fractures'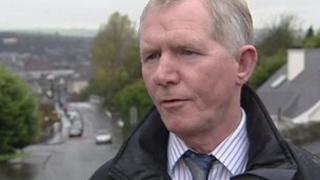 A high profile member of Sinn Féin in Newry, County Down, has left the party citing "serious fractures" within the local branch.
Brendan Curran has been a Sinn Féin councillor since 1985 and helped found the Newry branch 30 years ago.
In 1998, he became the first Sinn Féin Mayor of Newry and Mourne Council.
However, he has now confirmed his "difficult and distressing decision" to walk away from Sinn Féin. The party said it regretted his move.
The Newry Democrat reported that last week the local party branch had issued a press release on behalf of its council candidate, Liz Kimmins.
She referred to her "Sinn Féin colleagues, councillors Valerie Harte and Charlie Casey", failing to include Mr Curran.
It is understood Mr Curran perceived this to be a snub.
In a statement, he said that despite "monumental attempts to repair and resolve the serious fractures" within Newry Sinn Féin the recent statement in the paper "sets the tone for the future of the local organisation".
"As a result of substantial complaints and general unease since the last local election, there were many leadership efforts and changes introduced to remove the destructive effects of a small elitist clique within the Newry organisation, but to no avail," he said.
"So it is with great loss and sadness that, after 33 years, I will no longer remain within the local Sinn Féin structures.
"While I will no longer remain as a Sinn Féin councillor, I fully support the Sinn Féin leadership and I will continue to represent the people who elected me in a non-party affiliated designation."
In a statement, the party said it regretted, but accepted, Mr Curran's decision.
"Brendan Curran is a long-standing councillor of over 30 years and has to be commended for his steadfast representation of constituents and his commitment to the promotion of republicanism throughout that period," the statement said.
"We regret his decision to resign from the party. We are disappointed by, and refute, his comments about the local party leadership and candidates. Our membership in Newry has been growing over the past number of years and continues to grow.
"Unfortunately Brendan has chosen not to be part of our efforts to build the party and support for our political objectives in the time ahead.
Mr Curran is the district's longest-standing elected representative.