Stillborn inquest 'must go ahead', says John Larkin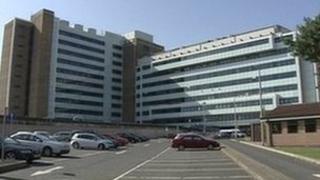 An inquest should be held into the circumstances surrounding a stillborn baby because an actual death occurred, the attorney general has said.
John Larkin said the legal requirements for a coroner's inquiry were met as Axel Desmond was capable of being born alive.
The child was delivered at Altnagelvin Hospital in October 2001.
Mr Larkin wants to overturn a ruling that senior coroner John Leckey was right to refuse to examine the birth.
He set out how the child's mother described him as a "little person" and had images of him kicking in the womb, his heart beating.
Mr Larkin said: "Axel Desmond is Siobhan Desmond's son, but as far as the public interest is concerned he's also quite simply one of us."
The baby was stillborn at Altnagelvin Hospital in Londonderry in October 2001 - one of 112 such cases that year across Northern Ireland.
Siobhan went into labour two weeks after her due date.
She had planned to give birth at home in the city but, following complications, was admitted to hospital where Axel was born by emergency caesarean section.
Staff tried unsuccessfully to resuscitate him.
Although Mr Larkin directed an inquest be held into his death, the coroner refused last year on the basis that it went beyond his legal powers.
Lawyers for the attorney general mounted a High Court challenge to his decision, arguing that the Coroners Act (Northern Ireland) 1959 contains no clear prohibition.
But counsel for the coroner claimed the legislation only covered death after a live birth.
Earlier this year, a High Court judge dismissed the attorney general's case after setting out the potential ramifications in other areas such as abortion, stem cell research, IVF and cloning.
Mr Larkin appeared in person on Wednesday as part of an appeal against that verdict.
Opening his case before Lord Chief Justice Sir Declan Morgan, sitting with Lord Justices Girvan and Coghlin, he said: "Our first and primary submission is that applying the known facts of Axel Desmond is that he's a dead body, he died and he's a deceased person."
The attorney general stressed his focus was on the type of child capable of being born alive.
Such deaths are not limited to cases where the baby is "stabbed through his mother's abdomen", he said.
A "myriad" of other types of death in the womb can occur, including lack of care or disease, the court heard.
Mr Larkin contended: "The verb to die isn't confined to where the child is deliberately killed."
He concluded: "Is Axel now a body, a deceased person, and can the attorney general conclude it's (desirable) to hold an inquest into Axel's death?
"We submit there should be an affirmative answer to both those questions."
The hearing continues.