Lough Neagh has lost 80% of its winter migrating birds says QUB study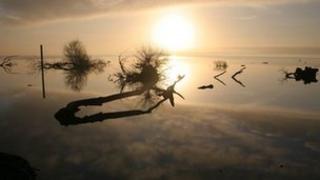 Lough Neagh, the largest lake in Ireland, has lost almost 80% of its winter migrating birds partly due to climate change, according to a study.
The research was carried out by Queen's University, Belfast.
It found that the number of diving ducks spending winter months on the lake has dropped from 100,000 to fewer than 21,000 in a decade.
The QUB research also suggested that figure is likely to fall further.
The birds - the tufted duck, goldeneye, pochard and scaup - are the only types of diving duck that visit Lough Neagh in winter.
They are common in Britain and Ireland during northern Europe's winter, but recent studies show that many now stop short on their annual journey.
One such study, published in the journal Global Change Biology, found that birds were more likely to stay in their northern summer breeding grounds because the lakes there were no longer freezing over during winter months.
Ecosystem
The study found that winter temperatures in northern Europe had risen by 3.8C in the past 30 years - meaning the birds no longer need to make the long journey south as they can continue to feed in the same place all year round.
According to research carried out by Quercus, Northern Ireland's Centre for Biodiversity and Conservation Science, at Queen's University, the ecosystem of Lough Neagh has also changed dramatically, leading to a big decline in the numbers of insects and snails living at the bottom of the lake.
"The number living at the bottom of the lake has fallen by two thirds in the past decade," said Dr Irena Tománková, who led the study.
"This is because of better water quality and less pollutants in the water. While we want cleaner water, unfortunately the reduction of food for birds is the trade off."
According to the study this - combined with the effects of global climate change - dramatically affects the numbers of migratory and overwintering water birds, a feature for which the lake is designated a Special Protection Area.
'Dramatic changes'
"It's unlikely that birds will stop migrating to Lough Neagh over the winter months altogether, but it seems likely that the number will continue to decline," added Dr Tománková.
As a result Lough Neagh has lost some of its importance for overwintering water birds.
"It underlines the need for international conservation measures to apply across the entire range of these migratory species," said Ian Enlander from the Northern Ireland Environment Agency.
"It is critically important for conservationists and policy makers to understand the reasons behind the dramatic changes that have been recorded at Lough Neagh," he added.