Forensics report delays Roseann Mallon inquest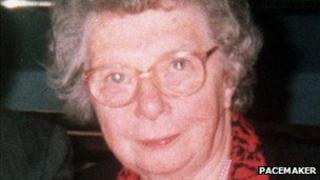 The inquest into the death of a pensioner shot dead in County Tyrone almost 20 years ago will now take longer than originally expected, after new information emerged.
Roseann Mallon, 76, was killed by UVF gunmen on 8 May 1994.
The PSNI's Historical Enquiries Team has ordered a new forensics report on the murder weapon, it has emerged.
The coroner wants the inquest to examine this report, but it will not be completed until at least 22 November.
The murder of Roseann Mallon is controversial because of allegations that the security forces colluded with loyalist paramilitaries in the shooting.
After her death, it emerged that the Army had been conducting a surveillance operation on a nearby house owned by Ms Mallon's nephew.
The murder happened during covert surveillance by three Army regiments in turn.
The Mallon family claimed in a statement on Thursday that additional unspecified regiments were also involved.
"We found one camera - we know that there were more," the family said in a statement issued through the campaign group Relatives for Justice.
"It is inconceivable that the surveillance equipment did not have the capacity to observe at night time."
The case is one of 29 controversial Troubles-related inquests that have been put on hold for a number of years. It continues next week.