Judge to consider sentence in Liam Adams case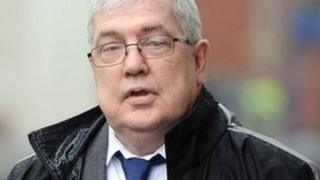 Liam Adams should not be subject to lengthy sex offender supervision measures on his eventual release from prison, his lawyer has said.
She told Belfast Crown Court he posed no serious risk to the public.
Adams, 58, from Bernagh Drive, Belfast, was found guilty of ten offences, including rape and gross indecency, against his daughter, Áine.
The abuse was committed between 1977 and 1983, when she was aged between four and nine.
Adams is the younger brother of Sinn Féin president Gerry Adams.
The court heard final legal submissions on the case before judge Corinne Philpott adjourned to begin her sentencing deliberations.
Judge Philpott, who has already heard substantive pleas on mitigating and aggravating factors in the case, had sought additional information on potential monitoring that could be applied on release.
Submissions
While probation authorities had already compiled a pre-sentence report on Liam Adams, the judge subsequently asked the relevant probation officer to provide her views on whether a time-limited custody probation order or the potentially more restrictive, and possibly indefinite, sex offender specific Article 26 measures would be required.
The judge said she had now received the probation officer's addendum to the original report but would not read it until she heard final submissions from lawyers.
Adams's barrister, arguing against Article 26 measures, said it was the defence's view that the probation report contained nothing that indicated Liam Adams would pose a serious risk on release.
The prosecution has provided written submissions on the matter to the judge.
Liam Adams, who is being sentenced under the terms of historic legislation that existed at the time of the offences, was not present for the short mention hearing.