Samurai sword attack victim 'thought he was going to die'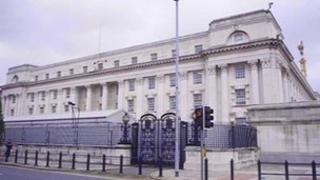 A man allegedly attacked with a crowbar and Samurai sword in a Londonderry flat thought he was going to die.
The victim claims he overheard one of those involved say: "We are going to have to kill him because he will tell the police", the High Court has heard.
Lee Flanagan, 32, of Eden Terrace, Derry, is accused of bringing the man to the scene after they met in a pub.
He was denied bail on charges of false imprisonment and causing grievous bodily harm.
The court heard Flanagan invited the victim back to the flat on 5 November where they were joined by two other men.
He was asked which one of two brothers he was before being punched and kicked to the ground, it was claimed.
A prosecution barrister said a co-accused produced a crowbar and hit him about the face.
That man then allegedly grabbed a Samurai sword from behind a television and aimed at the victim.
Despite trying to block the blows it inflicted gashes to his head, the court was told.
The man feared he was about to die, according to prosecution counsel.
She said Flanagan then allegedly spoke of killing him to stop him telling police.
Deep cut
It was claimed that he also talked of keeping the man for a couple of weeks so that swelling to his face would go down.
The victim claimed he escaped and contacted police after two of the suspects left the flat.
He suffered severe bruising, blurred vision, a slash to his arm and a deep cut to his head, the judge was told.
Following his arrest Flanagan claimed he had blacked out after taking drink and drugs and did not know what happened.
He also claimed he offered to take the victim to hospital.
A defence barrister said all of those at the flat were known to police, including the victim himself who was recently released from prison.
"Four separate accounts of what occurred have been given to police and the court has a very murky context to examine and try to establish exactly what occurred," he added.
He said his client has become an active member of the Christian organisation Cornerstone, attending meetings twice a week.
"He accepts he fell off the wagon on this particular evening and it's quite clear a lot of alcohol and drugs were consumed by all present."
Refusing the application for bail, the judge cited the risks of reoffending and interference with witnesses.