Families back home after Dundonald alert declared a hoax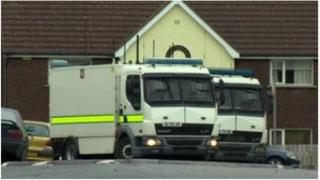 A number of families have returned to their homes after a security alert on the outskirts of Belfast.
A suspicious object found at a house at Cherryhill Park, Dundonald, on Saturday was declared a hoax.
The device has been taken away by the Army for further examination. Cherryhill Park has now reopened to traffic.
Alliance Party deputy leader Naomi Long condemned the "mindless and reckless actions" of those behind the alert.
"The vast majority of the public are opposed to the actions of those behind the recent bomb attacks and security alerts. They do not want to see Northern Ireland return to the dark days of the Troubles," she said.
"If anybody has any information about this security alert then I would urge them to contact the police."