Police targeted in Strabane pipe bomb attack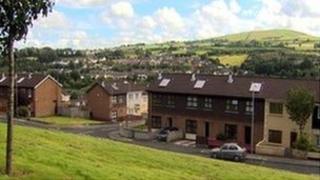 A police patrol was the target of a pipe bomb attack in County Tyrone on Saturday, the PSNI has said.
A security alert began in the Ballycolman estate, Strabane, at about 20:25 GMT after a report that something had been thrown at police earlier that evening.
A member of the public lifted the pipe bomb and moved it to waste ground at the old Adria factory site.
The Army was called and a controlled explosion was carried out.
Police said it was a viable pipe bomb. The alert ended shortly before 03:00 BST on Sunday.
Chief Inspector Andy Lemon, area commander for Strabane said: "This was not only a deliberate attempt to kill police officers, but was an attack on the community of Strabane.
"It is very fortunate that no-one, either police or civilian, was seriously injured last night.
"Had this device exploded, it could have killed or maimed anyone close by. Those responsible showed total disregard for the local community and put the lives of local people in the area at risk."
Insp Lemon thanked people in the area for their patience and support during the alert.
SDLP councillor Patsy Kelly said the attack caused disruption and chaos.
"This is a built-up area and people in this community do not want to see this kind of activity," he said.
"I want to commend the PSNI for their vigilance and professionalism. Anyone with information regarding this incident should come forward to the police as a matter of urgency."
Ulster Unionist Ross Hussey said it was a cowardly attack that could have killed civilians and police officers.
"Once again the thugs who operate to a republican agenda seem to think they have a valid reason to attempt to murder police officers," he said.
"One day they may succeed in killing a police officer or a civilian and for what? This must stop now - there is no way forward for such a cowardly campaign."
Sinn Féin councillor Brian McMahon said it was a "futile act".
"Thankfully no-one was hurt in this incident, not least the brave person who moved this device to waste ground.
"Rather than endangering and disrupting the local community those involved should recognise the absolute futility of their actions and join with the overwhelming majority of people in this area who are trying to forge a better future for the community," he said.