Northern Ireland Assembly Speaker William Hay to stand down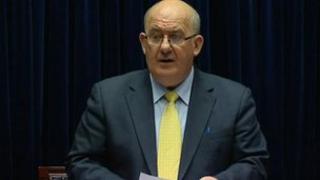 It is understood the Northern Ireland Assembly Speaker William Hay is planning to stand down at the end of June.
The BBC understands that Mr Hay will step down both as speaker and as DUP assembly member for Foyle.
Born in Donegal, Mr Hay has been an elected DUP politician since the early 1980s.
He was chosen as Stormont speaker after the restoration of devolution six years ago.
Since taking the chair, Mr Hay has had to keep MLAs on a tight rein, ruling on the use of unparliamentary language and sometimes suspending his own party colleagues.
Serving until the end of June would take Mr Hay past May's European and council elections and give his successor the summer to prepare for the challenges ahead.
Assuming a deal going back to the days when Ian Paisley was DUP leader is honoured, Mr Hay's successor as speaker is expected to be Sinn Féin's Mitchel McLaughlin.
After retiring from Stormont there is speculation that Mr Hay, like the former speaker John Alderdice, might go to the House of Lords.