Newcastle councillors fear they will lose former school site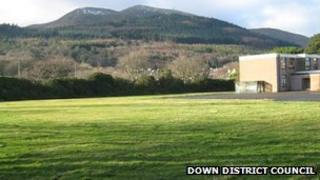 Councillors in Newcastle, County Down, have said they are worried the Catholic church is about to renege on a deal to sell a former school site.
They said although no deal was signed, they had a verbal agreement that the council's offer for the old St Mary's Primary School had been accepted.
An estate agent has now written to inform them that two higher bids have been lodged.
The council wanted the site to build a new £10m leisure and health centre.
Councillors are worried it will now be sold to a higher bidder.
SDLP councillor Carmel O'Boyle, chair of Down District Council's recreation committee, said she had been told the agreement the council believed it had agreed on is now "off the table".
She said the land should have been taken off the market and if a higher offer is now accepted it would be an act of bad faith.
The parish priest, Fr James Crudden said the matter was in the hands of the estate agent.
The estate agent, Johnny Burns, said the site had not yet been sold and that delicate negotiations were going on but he would make no further comment.
The chief executive of Down District Council, John Dumigan, said they agreed to purchase the site but he had been told by the estate agent that one or two higher bids have now been offered.
However, the council's solicitor is drawing up the contract for the site and Mr Dumigan expects the sale to go ahead.
If the parish decides to sell to another bidder, Mr Dumigan said "there is nothing in law, but that would be a breach of good faith".