Sainsbury's drops plan for Dundonald superstore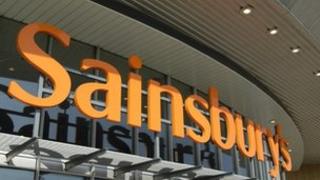 The Sainsbury's supermarket chain has dropped a plan to open a superstore at the old Rolls-Royce factory in Dundonald, County Down.
The retailer had planned to lease a 60,000sq ft unit at the site which is due to be redeveloped by the property firm Lagmar.
Sainsbury's first announced its plans in 2009 but now says they are no longer viable.
It cited a combination of factors including the current economic climate.
It also mentioned trading conditions and the length of time the scheme had taken in the planning system.
The firm's development manager for Northern Ireland, Andrew Sanderson, said the site, remained suitable for development.
He added that "Sainsbury's would like to wish the developer Lagmar good luck and every future success for the site".
The plans for the 17-acre site included other commercial developments but it is unclear how viable they are without Sainsbury's as an anchor tenant.
The scheme was approved by the then Environment Minister, Alex Attwood, in June 2013.
He said the decision to approve it was a difficult one, given its edge of town location.
However, Mr Attwood said he was swayed by the economic advantages, including a boost for the construction sector.
Finance Minister Simon Hamilton said he was "disappointed" and "surprised" by the decision.
He said he hoped it would not mean it was "off the drawing-board completely".
"Planning permission was in place for the scheme, it was a good scheme, it was going to redevelop an old factory and put in a mixed-use retail and commercial development," he said.
"It is worrying and troubling that Sainsbury's haven't decided to go forward."