Exploris aquarium could get DoE funding reprieve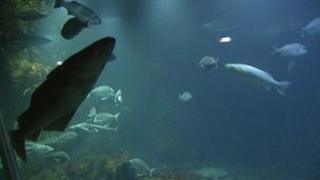 Northern Ireland's only aquarium, Exploris in County Down, may be saved from closure after the Department of Environment offered possible funding.
Under the plan, Exploris would receive a one-off capital grant, plus extra money to run its seal sanctuary.
Ards Council, which runs the aquarium in Portaferry, warned last month that the facility would have to close in the new year as a result of lack of funds.
Exploris is currently running at an annual deficit of about £600,000.
However, the council has announced that money may be available from Stormont to help run the facility.
An Ards Council spokesperson said: "In light of funding offers from the Department of the Environment, the council extends its stay on the closure of Exploris until January's council meeting to allow officers time to produce and submit a business case as requested by the department.
"This would allow Minister Durkan's and other relevant departments to confirm the final detail of capital and revenue funding proposals."
Exploris employs 18 staff and has been operating since 1987.
It is home to 12 seals and more than 3,000 fish.
A Department of Environment spokesperson said: "The minister has indicated that he would be prepared to consider the option of a one-off capital grant to upgrade the facilities at Exploris provided that the council supported this idea in principle and was prepared to commit to Exploris in the long term; that the council prepares a business case justifying the public expenditure involved; and ministerial colleagues are prepared to assist in the provision of a one-off capital grant provided that they are satisfied with the business case - DoE cannot do this alone."
Ards Borough Council had written to three Stormont departments seeking funding to save the aquarium - the Department of Environment, Department of Culture Arts and Leisure, and the Department of Education.
Exploris costs about £1m a year to run.
While it is popular with families and school children, visitor numbers have declined in recent years.
One of the factors blamed for this reduction was rising fuel costs.