Sally Convery pleads guilty to stealing cash from elderly patient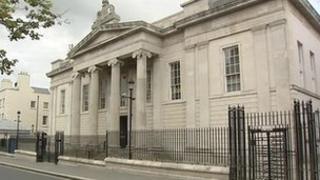 A former home help care worker who stole £700 from her elderly patient has been given a suspended sentence after admitting the theft in court.
Sally Convery, from Drumleck Drive in Londonderry, pleaded guilty to stealing the money from the 85-year-old woman between September 2010 and June 2012.
She also admitted converting criminal property, namely the £700 she stole.
Convery was given a nine-month jail term, but the judge suspended the custodial sentence for three years.
The elderly victim died last February but members of her family attended Londonderry Magistrates' Court for the sentencing.
A defence barrister said Convery, who had no previous convictions, wished to apologise to the pensioner's family for the stress she caused them.
Convery brought £700 in cash to court.
The judge told the defendant that if she had any relevant criminal record she would have received an immediate custodial sentence.
He told Convery that her crimes were a clear breach of trust that had tragic consequences for the elderly woman.
The judge said he wished to express his condolences to the victim's family.
As well as imposing the suspended sentence, he made a compensation order of £700 against Convery.