Northern Ireland house sales on the increase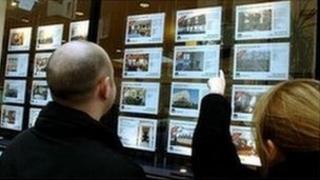 House sales in Northern Ireland increased by more than 20% between the second and third quarters of this year, the University of Ulster (UU) has said.
The figures were revealed in the latest University of Ulster quarterly house price index.
Another report by the Stormont statistics agency, Nisra, put the quarterly rise at 7%.
The UU survey recorded 1,706 transactions in July, August and September.
This represents the highest since the peak of the market in the second quarter of 2007.
It also found that the overall average price of residential property in the third quarter, at £129,777, was broadly similar to the previous quarter.
When variations in the sample mix were allowed for, the overall average price of a house showed a weighted increase of 1.3% over the quarter but was down 4.8% over a year.
'Optimistic picture'
The authors of the report , Prof Alastair Adair, Dr John McCord, Prof Stanley McGreal and Dr David McIlhatton said: "The sharp quarterly rise in the number of transactions is a major step forward for the local housing market.
"Coupled with a weighted quarterly price increase of 1.3%, it presents an optimistic picture of future prospects."
The report also said there was "a highly affordable price structure" in the Northern Ireland market.
The proportion of properties in the survey selling at or below £100,000 rose in the third quarter to 44%. Overall, almost three-quarters of homes in the sample sold at or below £150,000.
The report is produced in partnership with the Northern Ireland Housing Executive and the Bank of Ireland.
Alan Bridle, UK economist at the bank, said: "With house sellers adjusting their price expectations downwards, we are seeing houses selling again in greater numbers at these reduced prices, with the lower end of the market particularly active.
"The more favourable economic outlook, allied to UK government measures to stimulate the housing market, is likely to support greater activity into 2014.
"However, the conditions for a broader-based and more buoyant recovery in Northern Ireland are not yet in place."