Richard Haass talks: Labour Party proposes bank holiday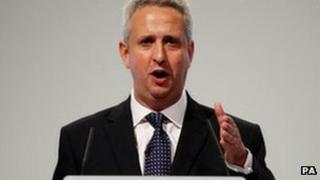 The Labour Party has proposed a new bank holiday in Northern Ireland to celebrate the achievements of the peace process.
The suggestion is contained in the party's submission to the Richard Haass talks on parading, flags and the past.
The party also suggests creating a five year commission to focus on the legacy of the Troubles.
Ivan Lewis, Shadow Secretary of State, said the talks came at a "crucial moment" for Northern Ireland.
"It is essential all Northern Ireland parties supported by the UK and Irish governments use this opportunity to agree a comprehensive strategy for dealing with the past," he said.
"This will require courageous and visionary political leadership which puts the interests of victims and their families ahead of party political considerations.
"Our submission is rooted in the principle of parity of esteem for all communities in Northern Ireland.
"We propose a comprehensive framework to address the complex issues of truth, justice and reconciliation with the needs of victims and their families put centre stage."
'Bridge'
Mr Lewis said the party's proposals on reconciliation built on "positive initiatives", both at a grassroots level, and by the Northern Ireland Executive.
"They are the key to providing a 'bridge' from the past to the future," he said.
"Our ambition should be to move from a cold peace to a warm peace within a decade."
The latest phase of talks chaired by the former US envoy finished on Friday and are due to resume in December.
Dr Haass met representatives from the five executive parties as part of his attempt to find a consensus on parades, flags and dealing with the past.
The discussions on Friday centred on the talks process and was described by one participant as the "pre-negotiations stage".
The US diplomat described the latest round of talks with the political parties as "serious, thoughtful and creative".
He said he still believed they could find a consensus before the end of the year.
Friday's talks were the third round of discussions between Dr Haass and the five Northern Ireland executive parties.
This week, Dr Haass also met the Bloody Sunday relatives and other groups in Londonderry, while his team held talks with the Orange Order and nationalist residents in Portadown, County Armagh, and Belfast.
Dr Haass began chairing the talks in September. He served as US envoy to Northern Ireland from 2001 to 2003. He was chosen to chair the discussions by the first and deputy first ministers.
So far, Dr Haass and his team have held 100 meetings, met 500 individuals and received 600 submissions.
This week he held more than 25 hours of meetings and met the five Executive parties twice.
He is due back in Northern Ireland on 9 December for more talks.