'Career burglar' Denis O'Neill remanded into custody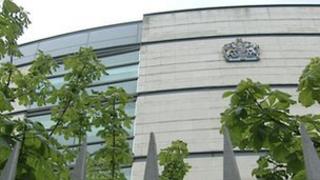 A man described by a judge as a "career burglar" has been remanded into custody accused of breaking into eight peoples' homes.
Denis O'Neill, 39, spoke only in court to confirm he understood the 11 charges against him.
Mr O'Neill, with an address at a hostel on Bridge Street in Newry, is charged with eight counts of burglary.
He is also charged with two of committing fraud and an offence of criminal damage.
The offences are alleged to have occurred on dates between 8 March and 14 May this year.
A detective constable told the Belfast Magistrates' Court he believed he could connect Mr O'Neill to each of the charges and outlined how police were objecting to bail amid fears that he would reoffend.
He revealed that the accused had almost 40 convictions for dishonesty offences, including 22 for burglary, eight for handling stolen goods and nine for theft in a criminal record dating back to 1987.
The officer said Mr O'Neill claimed during interviews that he stole the items to pay drug and gambling debts.
He added that because everything was recovered, "he hasn't been able to realise their value so we consider that he is at risk of reoffending... he has displayed a propensity to commit theft throughout most of his adult life".
Among the stolen items outlined in the offences were jewellery, computers, mobile phones, electrical goods and a model railway set.
Remanding Mr O'Neill into custody to appear again on 2 December, the judge described him as "career criminal, career burglar".
"I'm bound to say that I can see no justification for the granting of bail," he said.