Gavin Coney bailed over 'RIRA training camp' charges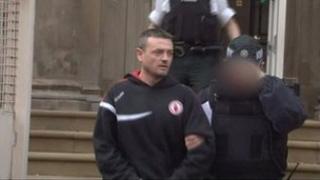 A County Tyrone man charged with attending an alleged Real IRA training camp that had been under security force surveillance has been granted bail.
Gavin Joseph Coney was freed from prison custody after his wife's parents put up the deeds to their home as surety to help secure his release.
The 36-year-old, of Gorticashel Road, Greencastle, is one of four people charged over the discovery of a firing range at Formil Wood, County Tyrone.
The discovery was made in March 2012.
Prosecutors claim the camp was in the advanced stage of preparations for a terrorist attack on police or the public.
'Four balaclavas'
Gavin Coney faces charged linked to his legally held .22 Walther rifle.
It is alleged the weapon was used to shoot balloons on the makeshift firing range on the Gorticashel Road, which had been under surveillance for months.
He is accused of possessing the rifle and a quantity of ammunition with intent to endanger life and of having the items in suspicious circumstances.
The accused has also been charged with having a sound moderator or 'silencer' for the weapon, possessing four balaclavas, four waterproof jackets, four pairs of waterproof trousers, four pairs of training shoes and two pairs of gloves for use in acts of terrorism.
During the bail application, a prosecution lawyer told Belfast Crown Court that the clothing and shoes that were found at Mr Coney's home were essentially "four sets of full kit'' for use at the Formil Wood training camp.
He said the .22 Walther rifle was seized by police and the accused's firearms certificate would more than likely now be revoked.
'Electronically tagged'
A defence barrister told the judge that Mr Coney's parents-in-law were prepared to put up the deeds to their home and outbuildings at Gorticashel Road, valued at £140,000, in lieu of a £20,000 surety sought by the Crown.
Following legal submissions, the judge released Mr Coney on bail subject to strict conditions.
These include residing at Gorticashel Road, surrendering his passport and signing bail with police three times a week.
He has been ordered to abide by a 22:00 GMT to 06:00 GMT curfew and will be electronically tagged.
Mr Coney was also banned from handling firearms and ammunition.