Students accused of £18K smartphone fraud in Belfast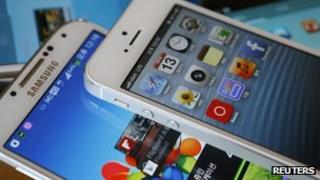 Six college students from London allegedly defrauded businesses in Belfast of at least £18,000 worth of smartphones, a court has heard.
The two men and four women are accused of using fake credit cards to take out mobile phone contracts on Saturday.
Charges against them involve either fraudulently taking out mobile phone contracts with a false bank card, possession of criminal property, or conspiracy to obtain contracts.
All six were granted bail.
Samsung Galaxy and iPhone 5 models are among the phones allegedly obtained, with police suspecting more have not yet been recovered.
The accused are: Ashani Imbert, 18, of Henniker Road; Dawn Correa, 20, from Kingsland Road; Feras Suleman, 21, of Frederick Crescent; Danielle McMahon, 18, from Monega Road; Akin Akinlabi, 20, of Charles Crescent House; and Titina Morais, 19, from Callcott Road - all in London.
Arrested on bus
Opposing bail, a detective constable told Belfast Magistrates Court: "Police believe they are all part of the same gang who came to Northern Ireland on Friday with the sole purpose of obtaining these phones by deception."
All of the charges relate to offences in Belfast on Saturday. Investigations are continuing into their alleged activities in Ballymena the day before.
Four of the accused were arrested on Sunday on a bus heading for Dublin, the court was told.
They had left their hotel in Antrim after the other two were arrested earlier.
A defence solicitor said admissions had been made in the case.
He said none of the accused were the organisers, but became involved to make "a few hundred pounds".
'Defies belief'
"They were readily caught, these six individuals walking into mobile phone shops and taking out two contracts each," he said.
"It almost defies belief that people working in the shops were willing to do that, but as I understand it they were working on commission and perhaps questions weren't asked that should have been."
He added: "These are university students who have seen an opportunity to make money easily... and here they are today."
Seeking their release, he pointed out that Akinlabi was due to give a presentation on strategic management tomorrow as part of his accounting and finance degree.
The judge said: "They have landed themselves in some very serious matters and I'm sure it has been a very rude awakening this weekend."
She granted bail and adjourned the case until next month.