Ballynahinch Congregational Church: Policing protests cost nearly £12,000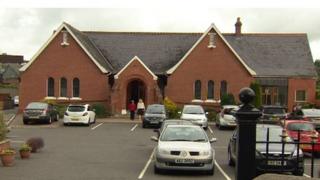 The cost of policing protests linked to a bitter row at a County Down church has reached nearly £12,000.
The dispute, which has split Ballynahinch Congregational Church, has been going on for some time.
It centres on the position of the Rev George Speers and his management of the church.
In September, police were called to a disturbance inside the premises. Since then, the cost of the police operation has been £11,547.
The dispute began in 2010 over the running of the church, which is based on Dromore Street in the town.
Some members say Rev George Speers was voted out of the position last year and has refused to leave. His supporters insist that is not true.
However, police officers were called to the church three months ago following angry scenes and amid reports that one member of the congregation had been head-butted.
The following week, two officers were on duty and they maintained a discreet presence while the service got under way.
On that occasion, at least 60 people stood up and left after the minister entered the room; more than 80 people remained inside the church.
Deep divisions
Since September, the police have been at the premises on a number of occasions.
The row has caused deep divisions within the congregation, with many wanting the minister to remain preaching while others want him to go.
The protesters disagree with Mr Speers and the way in which he is leading the church.
In a congregational church, the members decide on the its direction; there is no ruling authority.
The BBC obtained the cost of the policing operation from the Police Service of Northern Ireland through a Freedom of Information request.
Neither Rev Speers nor a spokesperson for the protesters have made any comment on the matter.