Tassagh fire deaths: Stephen Smith recalls sex abuse by Thomas O'Hare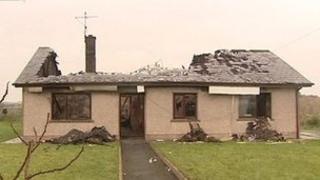 One of four brothers on trial for double murder has recalled in court the sexual abuse he suffered as a child at the hands of one of the murder victims.
Stephen Smith had just turned 24 when he and his brothers attacked the County Armagh home of Thomas O'Hare and Lisa McClatchey in November 2006.
The house was set on fire during the attack and the couple died from the injuries they sustained in the blaze.
Stephen Smith said he attacked Mr O'Hare, but did not mean to kill him.
He struggled to keep his emotions in check as he recalled how Mr O'Hare had sexually abused him when he was a child.
'Shame'
During his testimony, his three co-accused brothers sat with their heads bowed in the dock.
At one point, as Stephen Smith talked of his feelings of "shame" about the abuse, Martin Smith wiped away tears and several members of the extended Smith family wept in the public gallery.
Stephen Smith told the court that the revelation that he had been abused by Mr O'Hare had been "just a disaster" for the Smith family.
In the summer of 2006, Stephen Smith said, he began to notice Mr O'Hare driving in and out of the Mourneview estate, where the Smith family lived, in their home village of Clady, County Armagh.
Mr O'Hare's parents also lived in Clady.
Stephen Smith said he and his brothers talked about this and began to formulate a loose plan to force Mr O'Hare out of the area.
Like his brothers before him in the trial, he rejected any suggestion that killing Thomas O'Hare had ever formed any part of the plan.
"No, no, no way," he replied when that suggestion was made to him.
Stephen Smith said two incidents were to hasten the plan into reality.
'Obvious target'
Firstly, a work colleague told him that Mr O'Hare had asked him to do some work on a house at Foley Road, Tassagh, County Armagh.
Stephen Smith, an electrician, said he asked his colleague: "Is he (Mr O'Hare) moving in there?" The colleague had replied that he was not sure.
The second incident was the death of Stephen Smith's aunt, days before the fire. The Smith brothers, who were living in various places, all found themselves together in their home village for her wake and funeral. It was decided that they would put their plan into action that weekend.
Stephen Smith claims that, initially, he was not supposed to be involved in the attack as it was thought that he would be an obvious target for any subsequent police investigation.
By the day of the attack, however, he was fully committed to playing an active role, the court heard.
That afternoon, he bought a boiler suit in a shop in Armagh. He was accompanied at this time by another individual whom he has refused to name and, on the way to buy the boiler suit, they twice drove past Mr O'Hare's house on Foley Road.
This was the same person, referred to in court only as 'X', who was later to drive the brothers to and from Foley Road. All the brothers have refused to name that person.
'Punched'
Stephen Smith said he was convinced that Mr O'Hare would not be at the house that night.
He said things had not gone according to plan, firstly because it turned out Mr O'Hare was at his house on Foley Road and then because Mr O'Hare had put up an unexpected level of resistance.
The defendant said both he and his brother Christopher fought with Mr O'Hare in the kitchen. Stephen Smith also admitted that he punched Mr O'Hare several times.
At one stage, he said, Mr O'Hare and the two brothers all fell and Mr O'Hare hit the back of his head off the kitchen table.
The court heard Mr O'Hare crawled under the table and tried to break off a chair leg. At this point, Christopher Smith stamped on him before the two brothers lifted away the kitchen table.
Eventually, Thomas O'Hare was able to escape into the living room but Stephen Smith pursued him. He told the court they fought and eventually he got the better of Mr O'Hare. He added that he then walked to the door into the hall, leaving Mr O'Hare slumped against a settee.
Stephen Smith said he noticed he was covered in petrol and it was at this point that he first saw Mr O'Hare's girlfriend, Lisa McClatchey.
'Exploded'
"I didn't know who she was," he said. "I thought perhaps she was Thomas O'Hare's daughter or niece - she looked so young. I asked 'who are you' but she just stood there."
Stephen Smith said that he went to try the front door of the house, but thought it was locked.
"Just as I put my hand on the handle, the whole place exploded. It wasn't like a loud bang, more like a big humming noise. It blew the three of us - Christopher, Lisa and me - off our feet. You couldn't say it came from any direction; it was just the air everywhere suddenly turned to fire."
Finally, Stephen Smith was asked how he now felt about what had happened, and he said: "It should never, never have happened.
"I know the O'Hare family. This should never have happened, especially, especially to Lisa McClatchey. She was an innocent wee girl."
The trial continues.