Belfast agency BTW Shiells' behaviour 'curious' says judge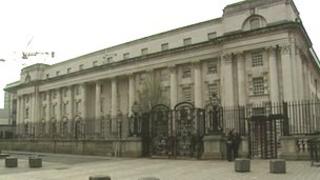 A High Court judge has described the behaviour of Belfast property agency BTW Shiells as "very curious" after it apparently failed to seek the highest possible price for a building it was selling.
The case focused on Cemex House at Upper Dunmurry Lane in south Belfast.
It had been repossessed by the former Anglo Irish Bank, now IBRC.
However, the former owners were attempting to buy it back with the help of family and friends.
Mr Justice Deeny said he had heard "persuasive" evidence that selling agents, BTW Shiells, had told one bidder not to offer more than £550,000 "because they would get it for that."
He added that other bidders had meanwhile been provided with inaccurate information "which discouraged them from buying."
The judge said this was "worrying conduct" and was clearly a breach of the firm's duty to get the best price on behalf of the receiver.
The case was brought by Belfast brothers, Donal and Ronan O'Kane, who had put together what the judge called a "rather complex proposal" to regain control of the building.
It had been placed into receivership in 2011 and offered for sale by private treaty.
That sales process was shelved and then a "sealed bid" sales process was started.
The O'Kanes had warned that a "sealed bid" would disadvantage them due to the complexity of their proposal.
A barrister for the receiver said that the bidding process was fair and that anything that had happened before it was "water under the bridge".
However, the judge said that the "strong prima facie evidence" of bad faith on the part of BTW Shiells meant that "the whole decision to proceed to a sealed bid is tainted by that bad faith."
On that basis, he held that an arguable case had been established that the sale process should be set aside.
The judge noted that the best bid on the table was £650,000, which was £60,000 more than the offer advanced by friends and family of the O'Kanes.
He acknowledged the argument that the brothers' bid to buy the building may be unrealistic, but he added that they are still earning and are funding the litigation.
In a ruling delivered two weeks ago but only now published, the judge decided to grant a 21-day injunction, subject to a £30,000 payment into court by the O'Kanes.
He confirmed the receiver was then free to resell the property - but not by auction or a sealed process.
He directed that BTW Shiells could continue to act as the selling agents but that two people named in the case papers should have no involvement in the sale.