Ferhat Ekici fined over brothel in Belfast flat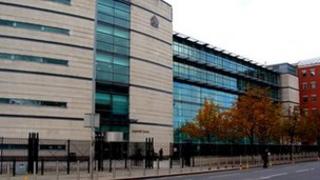 A man has been fined £500 for helping to run a brothel from his Belfast flat.
Ferhat Ekici, a hairdresser originally from Turkey, admitted assisting in the management of a brothel. He also admitted possessing criminal property.
Belfast Crown Court heard police raided his flat at Ashbourne Place, off Dublin Road, in 2011 during a major, Europe-wide investigation into prostitution.
The court was told women were brought to Belfast from the Czech Republic, via Dublin, to work as prostitutes.
One of two Czech women found in Ekici's city centre apartment told police that she was instructed to get a bus from Dublin to Belfast's Europa Buscentre.
Drugs raid
She said that when she arrived at the bus station she was to be picked up by Bronislav Rybensky, who is currently awaiting sentence on brothel running charges.
The court was told that the woman said she was to be taken to a brothel but there was a last minute change of plan when the brothel was raided by police searching for drugs.
She was then taken to Ekici's apartment by Rynensky who had got to know the defendant through his hairdressing work.
The judge was told that when the woman's first client turned up to the flat on 24 May, 2011, Ekici turned him away.
However, Rybensky arrived at the flat and a discussion took place, after which it was agreed to use Ekici's apartment for prostitution, the court heard.
Ekici arrived home from work that night to find his apartment being raided by the PSNI's Organised Crime Branch.
His car was searched and £670 in cash was found in a rucksack.
'Reluctant participant'
During police interviews in September 2011, Ekici claimed he met the two Czech women at a nightclub in Belfast.
A defence barrister said Ekici was a reluctant participant in the running of the brothel and was the "tail end of the tail end'' of the prostitution racket.
"These women were to be housed in another apartment,'' the barrister added.
"But while en route, Mr Rybensky's brother was involved in some drugs escapade and this apartment was being searched by police.
"As a result, the defendant was prevailed upon by Mr Rybensky to take these women into his apartment.''
The judge said 34-year-old Ekici's offences were at the lower end of the scale even though he had agreed to allow his apartment to be used for prostitution.
'Trafficking'
He added that he did not believe an immediate custody sentence was needed and fined Ekici £250 on each of the offences. He also made a forfeiture order for the £670.
Speaking outside court, Ekici said: "I am very, very glad I am not going to prison. I will never get involved with this type of people again.''
His 31-year-old co-accused, Bronislav Rybenskey, whose address was given as c/o Maghaberry prison, pleaded guilty last week to running at brothel at College Green Central apartments, Belfast.
Rybenskey also admitted trafficking women into Northern Ireland for prostitution, controlling prostitution for financial gain and possession of criminal property.
He is due to be sentenced in January.