PAC told money spent on projects without evidence they represented value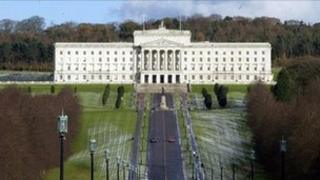 Civil servants were directed by ministers five times this year to spend funds on projects without clear evidence they represented value for money or the best use of resources.
The Public Accounts Committee heard the money was released using a procedure known as "ministerial direction".
This occurs when the accounting office for a department cannot stand over the decision financially.
The details were outlined by the head of the NI Audit office.
In many instances, the permanent secretary oversees the accounting office for a department.
In a briefing to the Public Accounts Committee (PAC), Kieran Donnelly Comptroller and Auditor General, outlined details of the occasions when "ministerial direction" had been used.
These included the health minister's decision to allocate £2.7m for the Northern Ireland Hospice, and £2.5m for Mencap, as part of the Transforming Your Care initiative.
The projects related to promoting care in the community and the funding was allocated ahead of a capital grant scheme which will not be ready until 2014.
This timetable would not have allowed for the money to have been allocated quickly enough.
Permanent secretary, Andrew McCormick, pointed out he could not confirm the funding represented value for money as the scheme was not yet in place.
This resulted in the minister for health directing the civil servant to proceed anyway.
Mr Donnelly said this was the second ministerial direction from the health minister, following Edwin Poots' decision on the health centres in Newry and Lisburn.
The four other ministerial directions taken this year include two in the Department of Agriculture and Rural Development. One supported the fishing industry with £740,000 and the other was £4m in hardship payments.
There was a cross-departmental direction relating to integrated services for children and young people last year.
The SDLP MLA John Dallat expressed some concern about the number of directions.
"There was five this year - they are used quite a bit," Mr Donnelly said:
Mr Dallat said he would not want to jeopardise projects from voluntary organisations such as NI Hospice, but said it was important to monitor these to see what patterns were developing.
Mr Donnelly agreed to do this - though he pointed out that in Whitehall questions were being asked why these directions were not being used more often. He cited the IT problems around welfare reform, adding: "it cuts both ways."