Belfast council workers fear for safety over Irish flag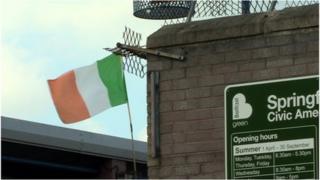 A number of Belfast council workers have told the BBC they feel the council is putting them "at risk" by not removing Irish tricolours from one of their cleansing depots.
Staff have said since the flags were put up they have been intimidated and one has received a death threat.
It is not clear who erected the flags at the Springfield Avenue depot.
Union flags have also been put up at other council depots. The council said they continued to assess the situation.
One employee who works at the Springfield Avenue depot agreed to speak to the BBC as long as his identity was protected.
'Burn the depot down'
"It began in June this year when union flags went up on Agnes Street. Tricolours then appeared on some of the depots and it escalated from that," he said.
"Nobody seems to know who is putting them up, but somebody must be doing it.
"After the flags went up, some pictures appeared on Facebook, that's when the intimidation really started. People were commenting saying 'burn the scum', 'burn them out', 'burn the depot down'.
"There were pictures of people outside the depot during the night with loyalist flags but it got a lot more serious when one of the guys got a death threat.
"He got a bullet and a sympathy card in the post. He had to go off on the sick and now he is living on his nerves."
Belfast City Council confirmed that a bullet was picked up by their scanners and they had reported the incident to the police.
The employee told the BBC that staff had raised the issues with council management.
"They came up to the yard and had a five minute chat with us - they told us the flags would be staying up on the depots for the time being," he said.
"It seems they are prepared to sacrifice our safety in order to avoid another flag protest.
"We are really worried about an attack. You just need to come into the yard, you can feel the tension.
"The council haven't handled this well - they are sitting on their hands trying to appease the flag protesters.
Decision
"They have to make a decision. At the end of the day these are council buildings. All the flags have to come down from all of the depots, that would be brilliant.
"You can't just demand one or two flags come down. They all have to come down and hopefully the situation will go away."
Union flags have also been placed at other Belfast City Council cleansing depots.
When the BBC visited depots on Agnes Street and Park Road, union flags were found flying at both sites.
A Belfast City Council spokeswoman said: "The ongoing situation with flags being erected at a number of council depots is a sensitive issue.
"We continue to assess the situation at each site and are working with local representatives to try to resolve the issue. We also take into consideration the safety of our staff in reviewing our response to the situation."
Alliance councillor Mervyn Jones, who is on the environment committee at the council, said that "no council staff should be intimidated or be subject to threats".
"All our council properties should be neutral venues and should not have any flags like that flying," he said.
"I think we will have to try to work it out and deal with all the flags at once.
"We will have to deal with it throughout the city in one holistic way. We don't want to cause a situation that would make things worse."
Protest
Loyalists are planning to mark the first anniversary of the flags protest with a demonstration at the City Hall on Saturday 30 November.
First Minister Peter Robinson has appealed for a peaceful protest, while Northern Ireland Secretary Theresa Villiers said those behind the protest should think again.
Flag protests began on 3 December 2012 after Belfast City Council voted only to fly the union flag at city hall on designated days.
A number of politicians received death threats and their homes and offices were attacked. Dozens of police officers were also hurt.
Police said 560 people were charged or reported in connection with the protests.