New development for Belfast's Odyssey complex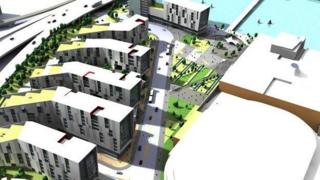 A £100m redevelopment scheme at Belfast's Odyssey complex has received outline planning permission.
The plan allows for almost 800 homes, two hotels, a retail area, leisure area, cafes, bars and restaurants and a large multi-storey car park.
Planning consultants Turley Associates said the development would create more than 1,000 jobs plus a further 800 jobs during construction.
The company said work on the scheme was expected to begin immediately.
Sheila Murphy of Turley Associates said: "The planning for this scheme was submitted back in 2009 and we are absolutely delighted with this decision.
"It is the largest redevelopment scheme the city has seen for many years and will complete and complement Odyssey."
The complex at Queen's Quay already includes the 10,000-seat Odyssey area, cinemas and bars and the W5 interactive science discovery centre.