Peter Robinson and Martin McGuinness in Japan visit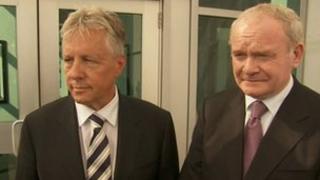 First Minister Peter Robinson and Deputy First Minister Martin McGuinness are travelling to Japan for a four-day business mission.
It follows an invitation from Japanese Prime Minister Shinzo Abe during the G8 Summit.
A spokesperson said Mr Robinson and Mr McGuinness will meet political representatives to promote trade, investment and tourism.
They will also hold meetings with existing and potential investors.
Speaking ahead of the visit, Mr Robinson said: "Japan is an important and growing export market for Northern Ireland companies, currently worth in excess of £32m.
"Japanese-owned businesses in Northern Ireland currently employ over 2,400 people and visits such as these are extremely important to developing important trade and investment relationships, and to show our commitment to supporting overseas companies to invest in Northern Ireland."
Mr McGuinness added: "Japan's economy is the third largest in the world; bigger than the economies of Brazil, India, South Korea and Turkey combined, making it a significant market for trade and investment.
"It is also our largest source of foreign direct investment from Asia-Pacific. We have a number of Japanese companies already established in the north of Ireland.
"This visit will give us the opportunity to meet with these companies and discuss ways in which we might be able to support them to grow their operations here."