Andor Technology refuses Oxford Instruments takeover offer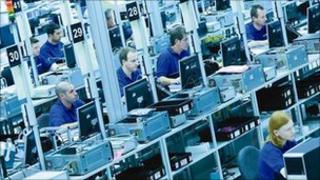 The Belfast-based camera maker Andor Technology has refused a takeover offer.
The English firm Oxford Instruments had offered £5 per share, which would value the company at about £166m.
Andor said on Monday it was "disappointed" that the firm was not able to increase its offer.
Chief executive Conor Walsh said it was an ongoing process "with a number of potential outcomes".
"The board has a responsibility to do its best for shareholders and also be mindful of the stakeholders in the company," he said.
"We are reviewing our strategic options, but we remain in discussion with Oxford Instruments."
Andor's financial results show that profit has dropped to £7m during 2013 from more than £10m in 2012. That reflects a drop in turnover during the same period.
'Positive signs'
Mr Walsh says that despite the reduction in profit, there were still good prospects for the year ahead.
"We alerted shareholders to that during the early part of the summer and these results are in line with that revised expectation," he said
"The order intake is at record levels of £59.1m - that means the opening order book going into next year is 33% up on where it was last year.
"We've added two acquisitions to the business in recent months, which will add significantly to the growth of Andor going forward.
"It has been a difficult time for us and everybody who sources their funds from the research community as we do, but there are quite a few positive signs heading into 2014."
Andor began its life as a spin-out company from Queen's University Belfast, which still owns a significant stake in the company.
The scientific camera maker is now one of only three companies in Northern Ireland to be listed on the stock exchange.
Andor employs more than 300 people in 16 offices worldwide. The majority of the workforce is based in Belfast.
To hear the full interview with Conor Walsh, download the NI Business News podcast