Newry robbery accused Felix Nolan 'has 12 aliases'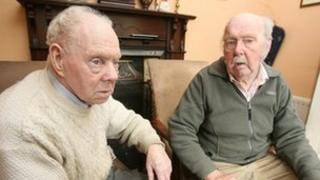 A man accused of robbing two elderly brothers in their home has a dozen known aliases, a court has been told.
Felix Nolan was arrested in London last month - more than four years after the raid on the victims' house near Newry.
Prosecutors who claimed he would flee if released again said he has travelled throughout Europe and is being sought in Germany.
Nolan, 24, of Sandys Street, Newry, denies charges of robbery and aggravated burglary.
At Belfast High Court on Monday, he was refused bail due to the perceived risks of absconding and reoffending.
Three men are believed to have forced their way into Jimmy and Patrick Murtagh's home at Lurganare Cross in April 2009.
They ransacked the property, claimed to be armed and stole £65 in cash, the court heard.
A Prosecution counsel said: "The victims were particularly frail and traumatised by the incident."
Following identification procedures Mr Nolan was brought back to Northern Ireland in 2010 after being detained in Liverpool getting off a flight from Amsterdam.
He was subsequently released by a district judge and allegedly moved to the Republic of Ireland before going to England.
'Sought in Germany'
Opposing bail, the prosecutor said: "There are 12 known aliases for this applicant.
"They are all around his Felix Nolan name but he nevertheless uses aliases."
Setting out the alleged risk he would flee, the barrister added: "He's being sought by the authorities in Germany and, despite the PSNI being in possession of his passport, he's believed to have travelled throughout Europe."
A defence counsel said his client insists he is completely innocent.
"At interview he denied any involvement and in consultation with me today in December 2013 he maintains his denial in relation to this dreadful incident."
Refusing bail, the judge said he could not be confident Mr Nolan would remain in Northern Ireland if released.
He added that it was right to describe the alleged offences as "despicable".
He said: "These two elderly men were obviously traumatised and deeply upset by what happened."