Archaeological finds at road building sites cost taxpayer £17m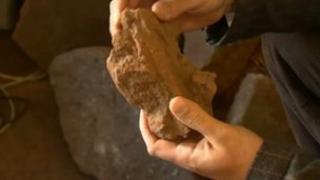 Removing archaeological finds made during the construction of three major road schemes across Northern Ireland cost taxpayers more than £17m.
The bill was agreed following a dispute between the contractor, Amey Lagan Roads, and the Northern Ireland Roads Service over who should pay.
The Northern Ireland Audit Office has investigated how that dispute was handled.
It has concluded that the Roads Service acted reasonably in the circumstances.
Amey Lagan Roads Ltd began work on 78 miles of motorway and trunk road schemes in November 2007.
But almost immediately, archaeological finds were made at the sites in counties Down and Tyrone -the Newry bypass, upgrades to the A1 and improvements to the A4 and A5 in County Tyrone.
Work was subsequently delayed.
The contractor initially asked for more than £33m for additional costs incurred. It claimed the finds were "unforeseeable" and the Roads Service should pick up the bill.
But Roads Service contested this. The Department of Regional Development had spent £2.6m on archaeological investigations over a seven-year period before the contract was awarded to try and minimise the risk of unforeseeable discoveries.
Eventually, following mediation, a settlement of £17.2m was agreed.
In its report, the Audit Office said it would be impossible to work out how much more money would have had to have been spent to eliminate all of the risk of delays and this would be unlikely to represent value for money.
Its general conclusion was that Roads Service acted reasonably. However, it recommended ways to avoid a similar dispute in future.
Lessons learned have already been incorporated into more recent road contracts where what the report described as "advanced archaeological contracts" had been used.