Stormont launches 10-year plan to tackle economic inactivity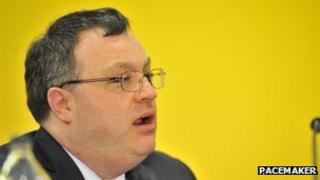 The Stormont Executive has launched a strategy to get 30,000 more people into work over the next 10 years.
It hopes a range of measures will tackle the problem of economic inactivity. Northern Ireland has the worst record of any UK region.
More than 300,000 people in NI aged 16-64 are classed as neither in work nor seeking work.
That figure includes the long-term sick, students and those caring for relatives.
Part of the plan includes setting up a task force and incentive schemes for employers.
The plan was launched in the assembly by Employment Minister Stephen Farry.
"The aim of the strategy will be to support people to make transitions when they opt to do so - this is not about compulsion," he said.
The economic inactivity rate in Northern Ireland stands at 27.4%, compared to a UK average of 22.2%.
The strategy is a joint initiative with the Department of Enterprise, Trade and Investment.
Its minister Arlene Foster said: "High levels of economic inactivity have been a persistent feature of the local economy over the past 30 years regardless of changes within the economic cycle."
A public consultation on proposals for the strategy is planned in early 2014 and the intention is to have a final strategy in place by summer 2014.