Rev Stephen Dickinson says he has been 'silenced'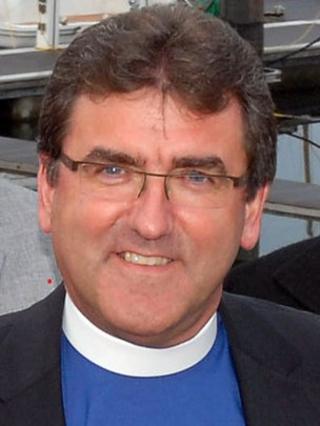 A minister who was removed from his ministry at two County Antrim churches said he has been "effectively silenced" by a new letter.
Rev Stephen Dickinson was removed from Cairnalbana and Glenarm churches in April after infighting between the leadership and congregation.
He has now received a letter saying he can "only preach by invitation in Presbyterian congregations".
A Presbyterian Church spokesman confirmed a letter had been sent.
The decision to remove Mr Dickinson eight months ago was taken by the judicial commission, the most senior body in the Presbyterian Church.
Following its investigation into a breakdown of relationships between the leadership and the congregation of the two churches, all church elders at Cairnalbana were also removed from their positions.
Elders at Glenarm remained in post and were unaffected.
In recent months, Mr Dickinson has been ministering at New Dawn Evangelical Fellowship in Broughshane.
He said he has not been receiving any payment for this role.
Last week, a letter, signed by the Clerk of the General Assembly, Rev Dr Donald Watts, said Mr Dickinson had to stop participating in the leadership of this church.
"The judicial commission directs that if you wish to continue as a minister in good standing of the Presbyterian Church in Ireland and receive the special allowance as arranged, you must not participate in the leadership of any church plant and specifically the New Dawn Evangelical Fellowship," it said.
"This applies to preaching, teaching and pastoral work.
"So long as you receive the allowance, you may only preach by invitation in Presbyterian congregations."
Mr Dickinson said he had complied with the instruction to cut his ties with New Dawn but was frustrated by the ruling that he was unable to preach.
'Private matter'
Speaking to the BBC Talkback programme, he said it was a "sad, sad day".
"Not just for us as a family, but for the Presbyterian family and for the Christian family, that a denomination in Northern Ireland would seek to impose a ban on a preacher of the gospel," he said.
"I have effectively been prohibited from preaching anywhere apart from the Presbyterian Church and only there by invitation."
A spokesman for the Presbyterian Church said the minister and his family had been allowed to remain living in the Glenarm manse and an appropriate salary had been provided since the decision in April and would be in place for a maximum of 18 months.
He said this would cease if Mr Dickinson was called to another congregation within the church, began an alternative ministry or took up employment.
"The Church considers any discussion concerning the terms of this arrangement a private matter with Mr Dickinson," he said.
"Mr Dickinson remains a minister in good standing with the Presbyterian Church and eligible to be called to a congregation."