Ex-RUC Special Branch officer sues PSNI over Castlereagh break-in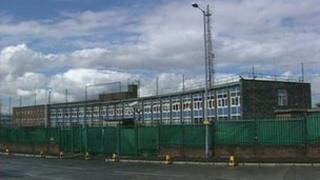 A former policeman's nervous system "completely fractured" after a break-in at a County Antrim security base in Belfast, the High Court has been told.
The ex-constable is suing the PSNI over the 2002 raid on Castlereagh police station, which was blamed on the IRA.
He is an ex-Royal Ulster Constabulary (RUC) Special Branch officer.
Intruders broke into a Special Branch office and stole sensitive files that were believed to relate to officers and their agents inside paramilitary ranks.
For security reasons, the former policeman who is taking the action can be identified only as CR19.
'Post-traumatic stress'
At a court hearing to establish the impact on his mental health from the alleged negligence, a former colleague-turned psychotherapist set out his assessment.
The psychotherapist said: "I knew him pre-Castlereagh and post-Castlereagh, and his nervous system fractured completely."
The plaintiff had retired from the police force more than a year before the break-in.
But according to his case the breach intensified his post-traumatic stress problems.
The burglary, carried out on St Patrick's Day, rocked the peace process in 2002.
At the time the IRA denied it was responsible.
Millions of pounds was spent re-housing officers and others whose security was compromised by the theft of the files.
A number of legal actions against the chief constable claiming personal injury, financial loss or breach of data protection have already been settled.
'Heavy drinking'
But CR19's case has continued, and in court on Tuesday he appeared as a personal litigant without a lawyer.
The judge heard details of his years of heavy drinking, involving up to a bottle of whiskey a day.
One of the medical experts who gave evidence accepted that the Castlereagh incident had a significant detrimental impact on the former officer's health.
And the retired financial director of a major construction firm told how, prior to the break-in, CR19 had been considered for a security post to help the company battle against racketeering and intimidation.
The plaintiff's former Special Branch colleague, who became an accredited psychotherapist after being medically discharged from the police, claimed CR19 was being prevented from sharing his anxieties in full by security constraints.
"He was like me - it was a health versus loyalty versus the Official Secrets Act," the witness said.
"It's quite evident in court that he has come unstuck with information he wishes to relate to his case but couldn't."
'Suffered'
The judge said his focus was only on the impact of what happened at Castlereagh.
"I'm not hearing a PTSD (Post-Traumatic Stress Disorder) case," he said.
"I understand a lot of police officers must have suffered terrible as a result of it. But all I'm looking at is what effect did the break-in have on CR19."
The hearing continues.