Former RUC officer remembers Harry Breen and Bob Buchanan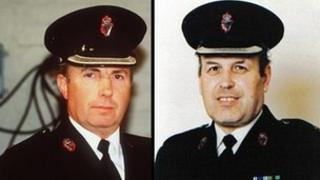 "My memory that morning going home was that my two colleagues were lying on the border in the snow, and we couldn't even recover them at that point."
As a staff officer, Alan Mains had worked closely with Ch Supt Harry Breen in Armagh for three years before his murder.
He was in his office in Armagh police station when he heard the news that Ch Supt Breen and his colleague Supt Bob Buchanan had been shot dead in an IRA ambush in March 1989 in south Armagh.
The attack happened as they crossed the border into Northern Ireland after a meeting in Dundalk Garda station.
"At that stage reality settled in very quickly. The fact that it was two of our own colleagues was that bit harder to swallow," he said.
That morning, Alan had been asked by his boss, to accompany him to the meeting to discuss cross border smuggling.
"I remember looking out the window and looking at the sunshine, I was very tempted to go, but decided I would go to the gym and do some weigh-training," he recalled.
"My day continued, I didn't expect him back that day as he was going down to speak to the military in Bessbrook after his meeting in Dundalk."
Sunshine and snow
Later that day Alan travelled down to Newry to brief senior officers on the dangers of recovering the bodies.
"We were quite hampered that night, with the lack of flying with the military because of the weather. I always remember very clearly that day there was sunshine in the morning and when I went home at four the next morning there was snow," he said.
"It was a painstaking operation in case there were secondary devices.
"As much as we would have liked to recover them very quickly, we had to take the precautions of putting in a full-scale security operation."
The following day Mr Mains met with the then chief constable of the RUC, John Hermon.
He told Northern Ireland's most senior officer that before travelling across the border, Mr Breen had confided to him that he had difficulties with certain members of the Garda Síochána.
Alan also reported it to the police investigation team at the time, the criminal investigation department.
He said he had received a "mixed response" to the allegations.
"First of all I received a dismissal by Mr Hermon and secondly, I think a bit of confusion at that time had set in, to sort of come up with something, I think the IRA were the focus of inquiry at that time and rightly so," he said.
Frustration
"I'm on record as being at that time, right through to now, still annoyed by the fact that it was Mr Breen saying this, not me.
"Mr Breen was a highly respected police officer as was Mr Buchanan, but Mr Breen was the boss. I was repeating what he had said so I was frustrated."
In the days that followed he attended the funerals of both men.
"I remember being at Mr Breen's funeral and walking up Banbridge, it's quite a long walk, and in all of Banbridge was just complete silence," he recalled.
As time went on he began to think more about the concerns raised by his murdered boss.
"I think as I progressed through my career and went back as a detective inspector into south Armagh in CID, it was then that I realised how the IRA actually really operated, what made them tick, more importantly, how risk averse they were," he said.
"When I started to put that together, I realised that that day, there was something more suspicious than perhaps what I first thought."
In 2005, the Irish government set up the Smithwick Tribunal to investigate claims that officers based in Dundalk Garda (police) station had assisted the IRA gang who ambushed the men.
He said it was a "big decision" to appear as a witness.
"It was very emotional for me, my evidence when it came to the part of talking about when I received the first call, and then the second call, for me it was hard to hold it together," he said.
In the report of his inquiry published on Tuesday, Mr Justice Smithwick said he was "satisfied there was collusion in the murders".
'Closure'
"I think it's still settling in as to what the judge has very clearly and, in my opinion, very well put together," he said.
"I feel a sense of personal relief and satisfaction for the families. I believe people talk about closure for families, I believe this has probably created two paths for them, one in a sense closure and one a sense of anger.
"I feel that when something happens, in their case, their loved ones, to have a sense that there was another part to play in it, a more sinister part, from the people that he actually worked with, because that's exactly what he did, he worked with them, that must be difficult."
During his time working with Mr Breen, the pair built up a good relationship that extended outside of the workplace.
"The best way to describe Mr Breen would have been as a true gentleman," he said.
"He was what you would have aspired too. He was very softly spoken but very direct. I honestly could say I don't think I've come across an officer since then with the same calibre, personality and knowledge of policing.
Proud father
"He worked extremely hard, intelligently and he cared for his family with the utmost respect and dedication as a father would.
"I can clearly recall that Harry was very proud of both his children, Gillian and David, and I can recall when I was clearing out his office days after the incident, finding their homework books, which he had kept."
Alan also knew Supt Buchanan - he had first met him while previously working at Forkhill police station.
"Bob was the border superintendent which was in itself a very difficult job, but yet one that we relied on heavily.
"He was a very quiet man, very religious, very well respected, just really set about doing his job, just one of those very quiet police officers who was very professional and you trusted him implicitly in his dissemination of information."