Willie Frazer Belfast 'Push for Justice' restricted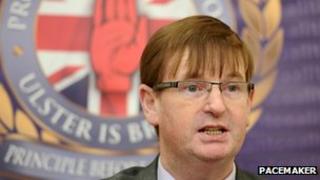 Restrictions have been placed on a planned 'bed push' in north Belfast led by loyalist campaigner Willie Frazer later this month.
The 'Push for Justice' was part of a fundraising drive for victims to go to Libya to seek compensation for its backing of the IRA, Mr Frazer said.
Up to 40 victims and supporters are expected to take part.
The Parades Commission has ruled it must not pass the Ardoyne area or go into the city centre.
The proposed route of the Saturday, 14 December parade was from Ardoyne Road to the Crumlin Road to Woodvale, then on along the Shankill Road to city hall via North Street, Royal Avenue and Castle Place.
However, in its ruling the Parades Commission said the push was barred from the part of its route between the junction of Hesketh Road and Crumlin Road and the junction of Crumlin Road and Cambrai Street.
Effectively this means the parade must start on the part of the Crumlin Road past Cambrai Street, so it will not pass the Ardoyne area.
It has also been stopped from going into the city centre.
'Hard-pressed traders'
In making its determination, the commission noted the bed push "was not a traditional parade".
It said it had heard representations from Crumlin Ardoyne Residents Association and Sinn Féin but was "disappointed that it did not receive any representations from the parade organiser".
It added that it was "aware of the cumulative impact of parades and protests on the commercial life of the city, especially on Saturday afternoons".
"The commission has been informed that this time of the year is traditionally one of the busiest times in the approach to Christmas and is crucial to help the survival of the already hard-pressed city centre traders," it said.
It also noted that although the event is a fundraiser, no application has been made for a street collection permit.
Mr Frazer, 53, from Markethill in County Armagh, is currently facing charges linked to union flag demonstrations in January.
In September he arrived at court dressed as Muslim cleric Abu Hamza to protest at being charged under legislation that, he claims, was brought in to deal with militant Islamic preachers.