Prof Philip Lamey: Accused dentist acted appropriately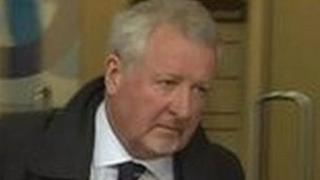 A top dentist acted appropriately despite 35 of his patients developing cancer, a General Dental Council hearing in London was told on Friday.
Prof Philip Lamey is accused of failing to spot the changes in a patient who for years had a dry and itchy mouth condition that turned into cancer.
He faces 46 charges of misconduct.
Expert witness Prof Stephen Challacombe said Prof Lamey did not have the benefits of modern technology when he allegedly misdiagnosed patients.
One hundred and thirty five of his patients at the School of Dentistry at the Royal Victoria Hospital in Belfast had to be recalled after 35 of his patients developed cancer - four of whom eventually died.
When asked by defence counsel about how he had diagnosed smokers' keratosis, damage caused by cigarettes, when the patient had not been a smoker and had failed to properly monitor a lesion, Prof Challacombe said: "We have a particular way of measuring dryness of the mouth which was not available at that time.
'Radioactive material'
"There are simple ways of spotting dryness by appearance and asking the patient to spit.
"It's a very simple test and a common one. But I like the Scintigraphy test because they give you the function of the gland".
Scintigraphy is a method to measure salivary flow by measuring the rate at which a small amount of injected radioactive material is taken up from the blood by the salivary glands and secreted into the mouth, the hearing was told.
Prof Challacombe said: "But this test was not available to Prof Lamey at the time."
The panel had previously heard how the patient, a non-smoker who had suffered a complaint since the mid-90s, was eventually diagnosed with cancer.
The defence counsel said: "Mr Lamey saw and took it as smoking-related, despite not being a smoker over the period and the lesion receded and found there was nothing to be seen."
'Surreptitious smoker'
However, Prof Challacombe said that the non-smoker may not have been completely honest with Prof Lamey.
Prof Challacombe said: "The patient could have been a surreptitious smoker. The most important thing for the patient is that the lesion disappeared.
"The size of the lesion indicates the activity or regression, smaller and thicker are more important than widespread and thinner."
He agreed with Prof Lamey's treatment of the patient, adding: "Overall, management of the patient was entirely appropriate.
"The clinician would look closely at the floor of the mouth," he said.
"A patient could show change and you would biopsy, but it would not be unreasonable to not biopsy at that point."
The hearing in London continues.