IRA Castlereagh break-in: £20,000 award for former officer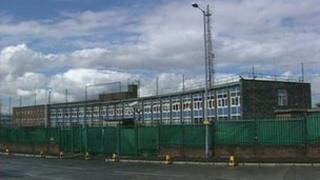 A retired Special Branch officer whose details were stolen in the break-in at a high security base in Belfast is to receive more than £20,000 in damages.
A High Court judge based the compensation on the impact that the IRA raid on Castlereagh police station had on the former officer's mental health.
Liability had already been admitted in the claim against the chief constable.
The case was taken over the amount of compensation to be paid out.
Sensitive
The judge backed a medical expert who assessed the former officer's psychiatric issues as having worsened by up to 25% for six years after the burglary in 2002.
He said that he was making no award for either post-traumatic stress suffered during decades of service or a "heavy drinking macho culture" within Special Branch.
The judge added: "No one can begin to imagine the horrors he has to face and the demons that continue to haunt, not only his dreams, but his waking moments."
The former officer who brought the action can be identified only as CR19.
He had retired from the police more than a year before intruders broke into a Special Branch office at Castlereagh on 17 March, 2002.
They escaped with sensitive files believed to have related to officers and their agents inside paramilitary ranks.
Millions of pounds was spent re-housing officers and others whose security was compromised by the episode.
Heavy drinking
Responsibility for the burglary, which rocked the peace process, was denied by the Provisional IRA at the time.
A number of legal actions against the chief constable claiming personal injury, financial loss or breach of data protection have already been settled.
CR19's negligence claim continued in a dispute over the level of compensation to which he should be entitled.
Fighting the case without a lawyer, he told the court that the IRA carried out the break-in as part of a plan to kill Special Branch officers, "their main enemy".
Details of his years of heavy drinking, involving up to a bottle of whiskey a day, were set out during the hearing.
Medical experts accepted that, along with other work-related experiences, the Castlereagh incident had a significant detrimental impact on his health.
CR19 claimed his post-traumatic stress was compounded after being told his details had been stolen and that his family was under severe threat.
He told the court: "The elastic band stretched so much that it just broke and my nervous system went haywire."
As part of his case he argued that he has been unable to sell his home, where increased security was installed after the raid - and had lost out on a job offer overseeing security for a major construction company.
The judge rejected both these aspects of his action, agreeing with counsel for the PSNI that the position was never formally open to him.
CR19's alcohol issues, previous involvement in confronting paramilitaries and post-traumatic stress symptoms, meant he was unsuitable for any such role, the judge said.
He also found that medical records did not support the case that CR19's drinking went "into free-fall" after Castlereagh.
Awarding £20,000 general damages plus costs and a further £2,400 in interest, the judge added: "I should say the temptation in cases such as this is to be overly generous because the plaintiff has been through very difficult circumstances."