Abortion law: DUP accused David Ford of 'contempt'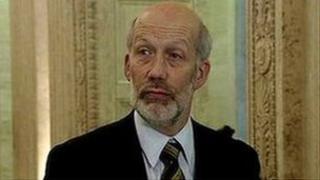 Northern Ireland's Justice Minister David Ford has been accused of treating the Stormont Assembly with contempt over potential changes to abortion law.
He hopes to launch a consultation on amending the law to allow women carrying babies with fatal foetal abnormalities to have a termination.
The accusation of contempt was made by Justice Committee chair, Paul Givan.
Mr Givan said he was opposed to discriminating against disabled people, including terminally ill babies.
The DUP MLA also objected to the way Mr Ford had unveiled his plans and said he would be very cautious about how the Assembly should deal with the issue.
"David Ford treated the Assembly with contempt by making this announcement in the way in which he did," Mr Givan said.
"He didn't take it to the Assembly, he didn't speak to the Justice Committee, he didn't brief his chair of that committee.
"So on an issue of such gravity as this, one would have thought that he would have sought some degree of consensus in the first place and he has failed to do that," the DUP MLA added.
Mr Ford revealed his plans for the public consultation on BBC Radio Ulster's Nolan Show on Thursday.
It follows two high-profile cases of women in Northern Ireland who shared their experiences of fatal foetal abnormality during pregnancy.
Both women discovered their babies had anencephaly, a severe brain abnormality, and would not survive outside the womb.
They faced having to travel to Great Britain to have a termination, as under Northern Ireland legislation, fatal foetal abnormality is not considered grounds for abortion.
Paul Givan's interview will be broadcast on BBC Radio Ulster's Inside Politics programme at 18:05 GMT.