Nelson Mandela death: Books of condolence opened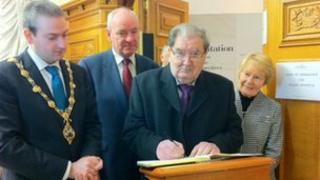 People in Northern Ireland have been signing books of condolence in tribute to the former South African President Nelson Mandela.
He died on Thursday, aged 95, after a long illness.
Mr Mandela will be accorded a state funeral on Sunday 15 December.
Books have been opened at Belfast City Hall and at the Guildhall in Londonderry, where the Deputy First Minister, Martin McGuinness, added his signature.
He described Mr Mandela as "our friend, freedom fighter, peacemaker, reconciler and a credit to the human race."
"It was very important to come and express sympathy and condolences to his family, to the South Africa government and to the South African people," he said.
"They have made their own remarkable contribution to our peace process."
Former SDLP leaders John Hume and Mark Durkan also signed the book of condolence in Londonderry.
Political leaders in Northern Ireland have acknowledged the former South African leader's contribution to the Northern Ireland peace process.
Vigils are continuing across South Africa as thousands mourn his death.
Mr Mandela spent 27 years in jail before becoming South Africa's first black president in 1994.
His administration replaced the racist white-minority regime that had enforced segregation of black and white people in a policy known as apartheid.
He went on to become one of the world's most respected statesmen.